Welcoming more than 33 million tourists in 2018 alone, Greece is one of the world's most visited countries – and there's a seemingly endless list of reasons why. The birthplace of democracy is steeped in rich and enduring history, awash with some of Earth's most astounding landscapes, brimming with warm and wonderful locals and hailed as a gastronomic utopia, making it a truly magical place that travellers return to again and again.
For a sun-soaked holiday that offers everything from beaches to museums, Greece's many islands provide guaranteed bliss – whether you're after a laidbackromantic break or an action-filled getaway with the family in tow. Here are four of the finest.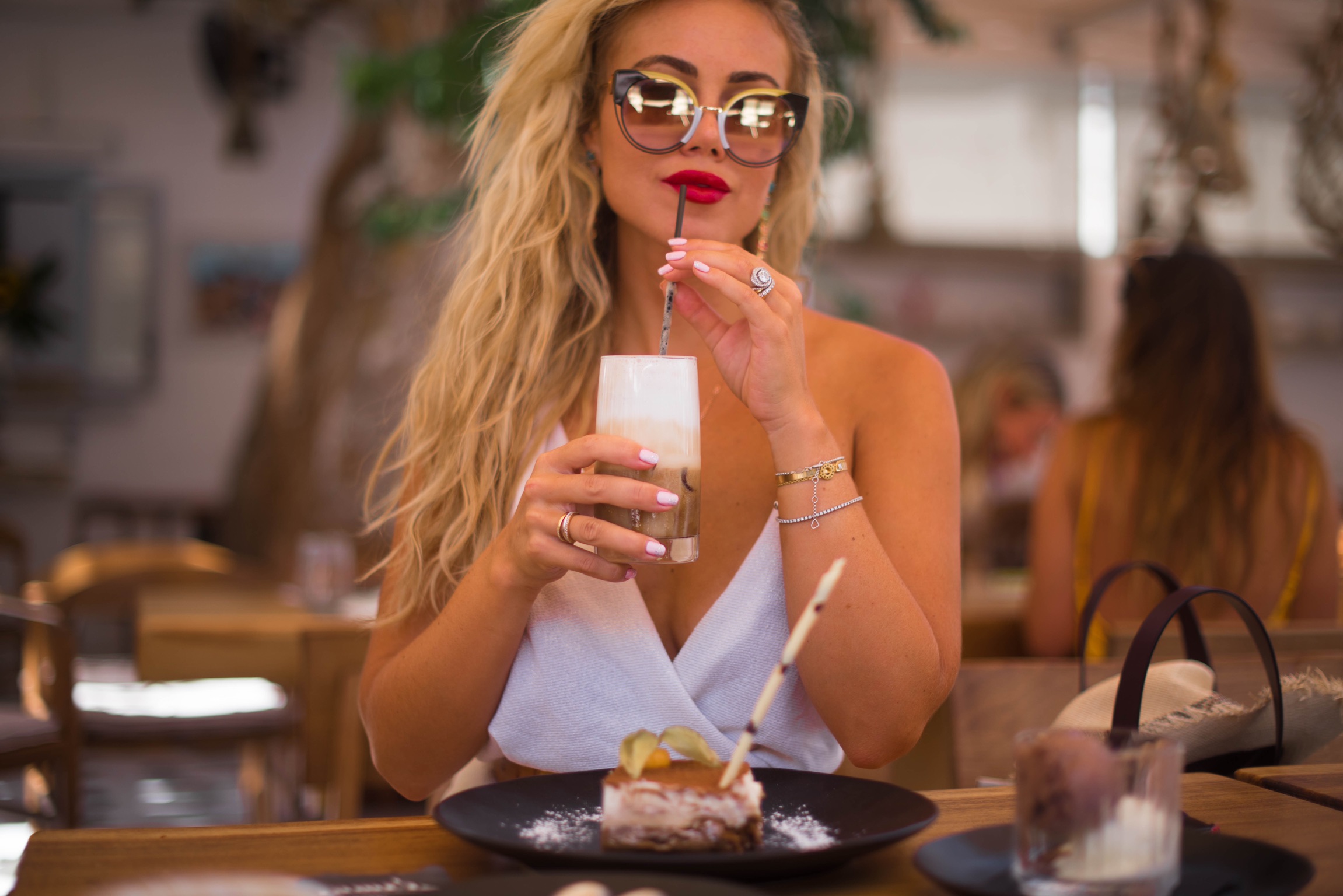 Mykonos
Internationally renowned for its uniquely Greek glamour, its vibrant nightlife and its awe-inducing panoramas, Mykonos has a little something for everyone. High-end resorts and luxury shopping converge with fascinating antiquities and local tradition in this overtly cosmopolitan Cycladic paradise.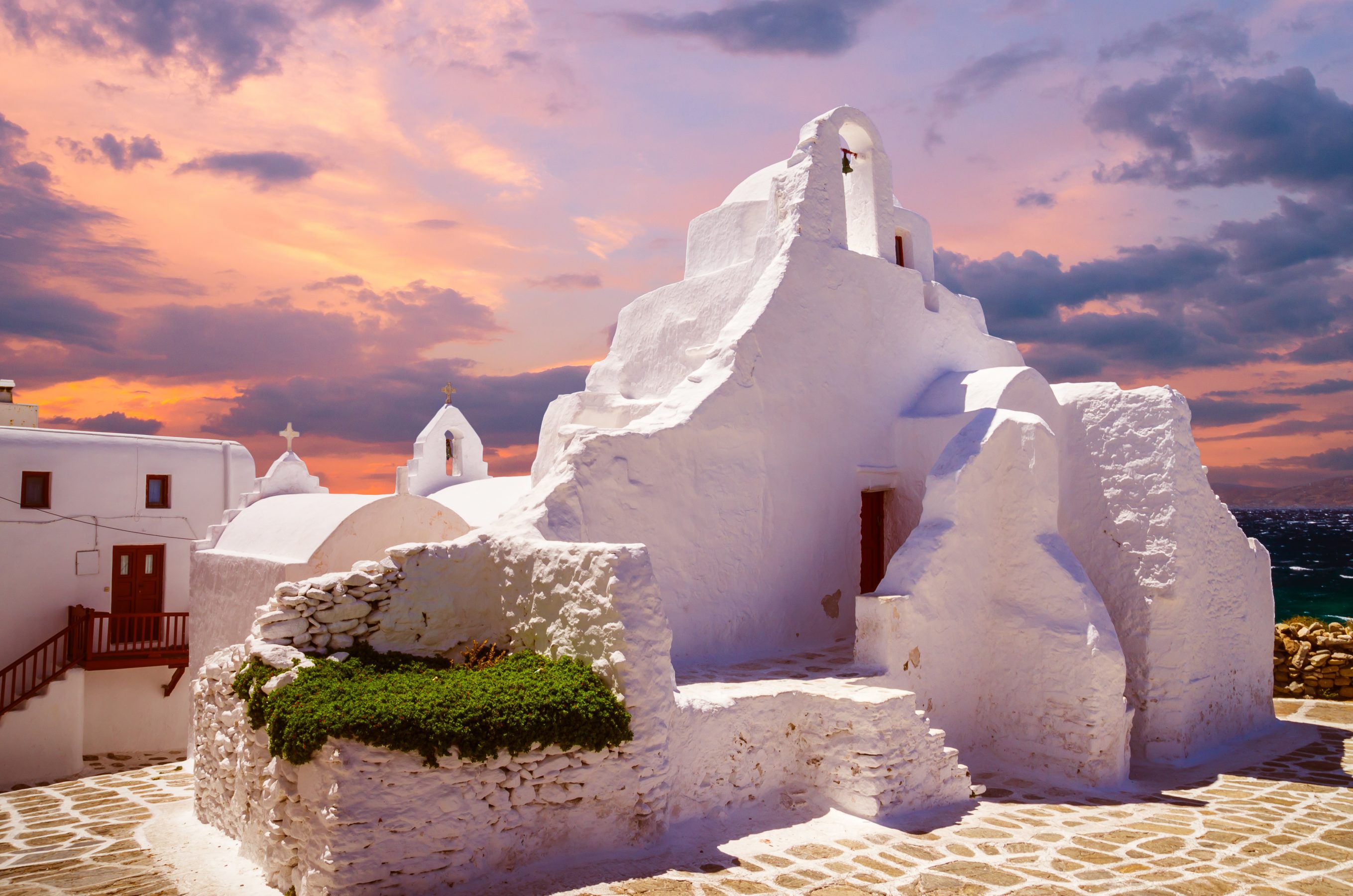 The Church of Panagia Paraportiani in Mykonos
With its winding marble streets and whitewashed houses, the island showcases some of the country's most attractive architecture. Visitors frequent the church of Panayia Paraportiani, the town hall and the striking castle looming above the harbour, while a medley of museums will keep the history buffs at bay. For shopping, head to the colourful streets of Hóra – the most glamorous being Matoyánni Street, jam-packed with designer stores, glitzy restaurants and charming cafeterias.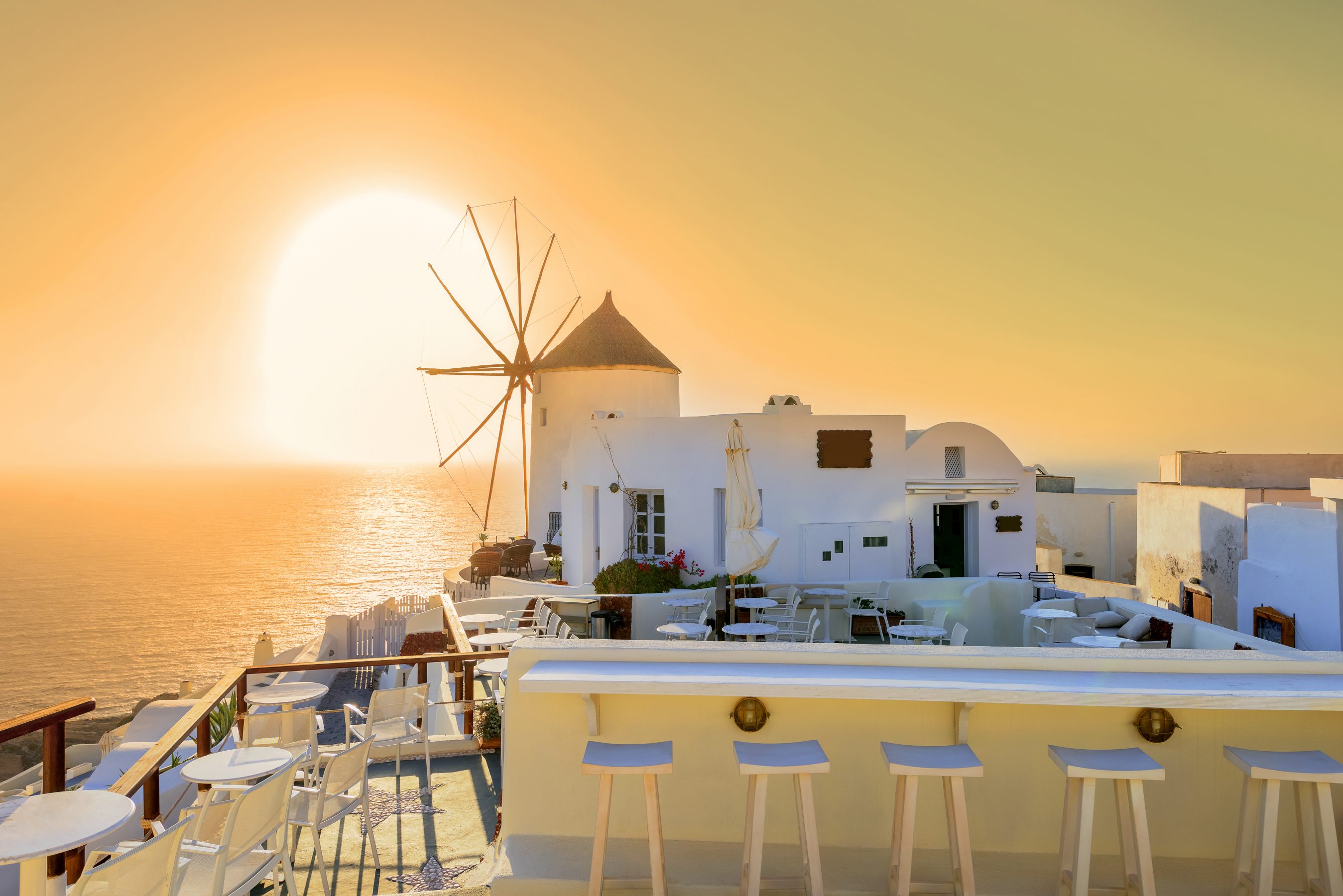 As with nearly all the Greek islands, you'll be spoilt for choice when it comes to cuisine. Fiery kopanistí (a soft cheese laced with pepper) is the island's gastronomic trademark, while local pastries like amigdalotá (small cakes made with ground almond, rosewater and caster sugar) are as reasonable in price as they are drool-inducing.
For Mykonos' most stylish dining and drinking head to jetsetter hotspots like Interni, Sea Saturn, Olla and Katrine (the mussels here are more than moreish). And if you're longing to lodge in five-star surrounds then look no further than Cavo Tagoo – an ocean facing, ivory-coloured establishment nestled into the cliffs to blend seamlessly with its idyllic surrounds. It features a substantial infinity pool, lavish spa, 40-metre aquarium bar and a whole host of suites, most of which boast private pools.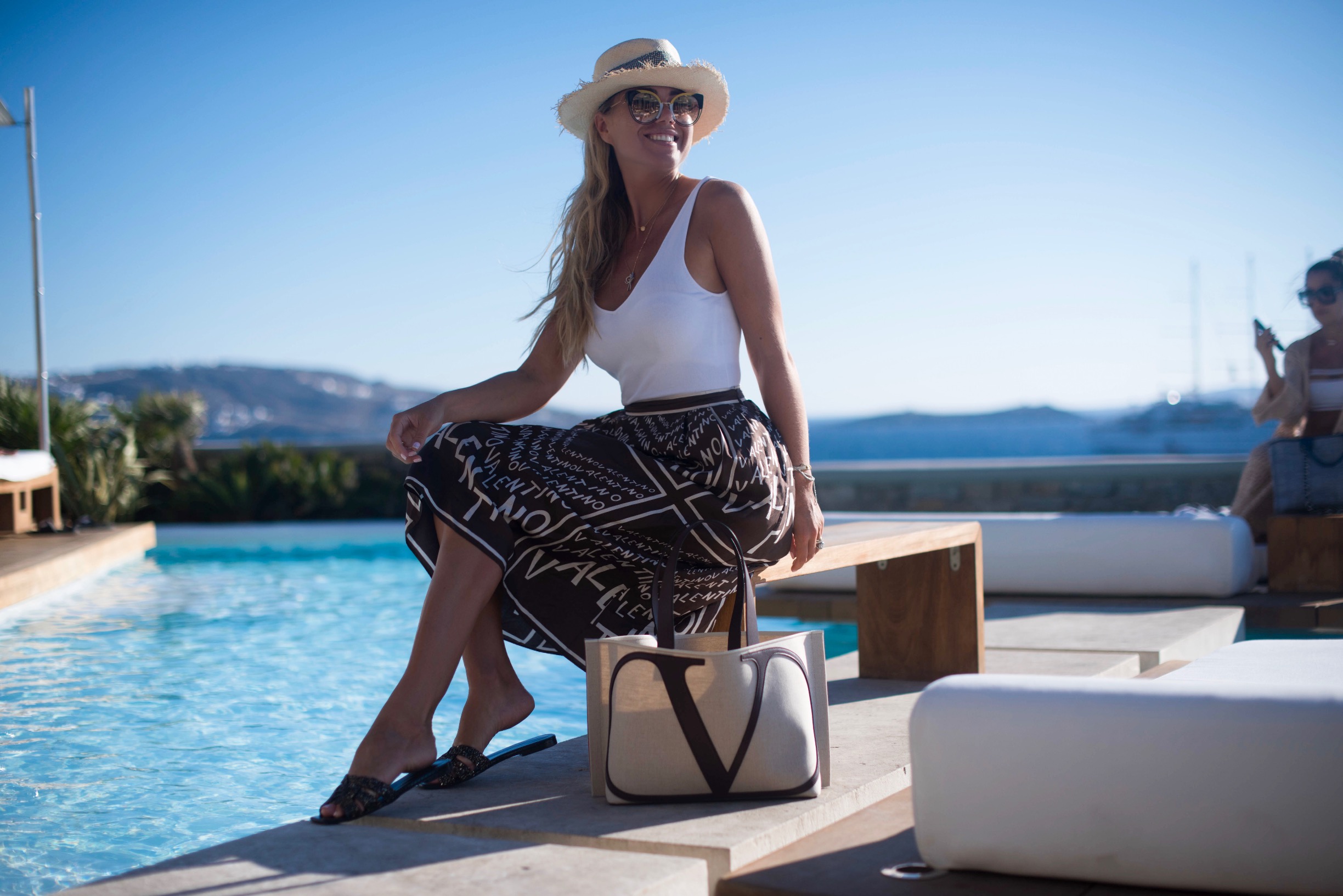 Santorini
As with a few other Greek islands (Méthana, Mílos and Nísiros if you must know), Santorini and its surrounding islets are actually part of an active volcano. Known locally as Thira, the crescent-shaped holiday hotspot wows almost two million visitors a year. It offers deep blue waters and unparalleled beaches that glisten with shimmering white, red or black sand, as well as spectacular rock formations and landscapes not dissimilar to the surface of the moon.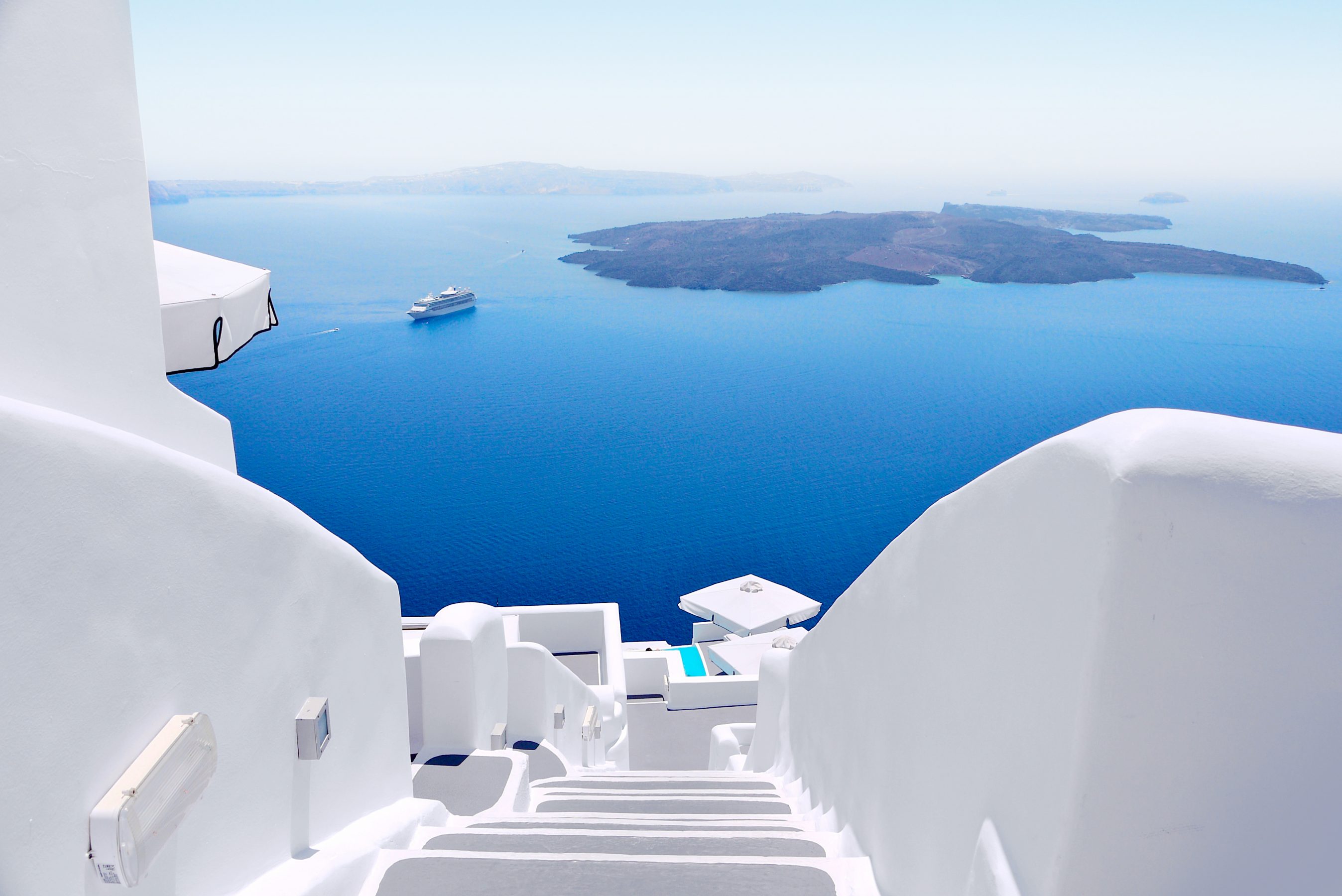 On the island's west coast, large clusters of white-walled buildings nest at dizzying heights, providing astonishingphoto opportunities from land or sea. Santorini's bustlingcapital, Fira, sprawls north into villages Firostefani and Imerovigli, with an adjoining pathway between that's lined with upmarket hotels and gasp-inspiring terrace views, while the stunning and exclusive village of Oia in Santorini's north is quickly becoming a luxurious haven to lay low in. Carved into the caldera-edge, Mystique is a honeymoon hideaway and spa resort with suitesconnected by a whimsical network of cobbled pathways.
Often described as a culinary paradise, the island provides a whole host of traditional food products, as well as its own distinctive wineries that offer tasting days when you fancy some time off from sun worshipping.
Symi
An imposing mix of grandeur and serenity, Symi might just be one of the world's best-kept secrets. Just one hour by ferry from Rhodes, this little Dodecanese haven wows visitors from the moment it comes into view from the sea-soaked decks of the Dodekanisos Express. Multicoloured houses cascade down its steep hillsides, where jagged rocks meet crystal-clear ocean to create the most enchanting of backdrops.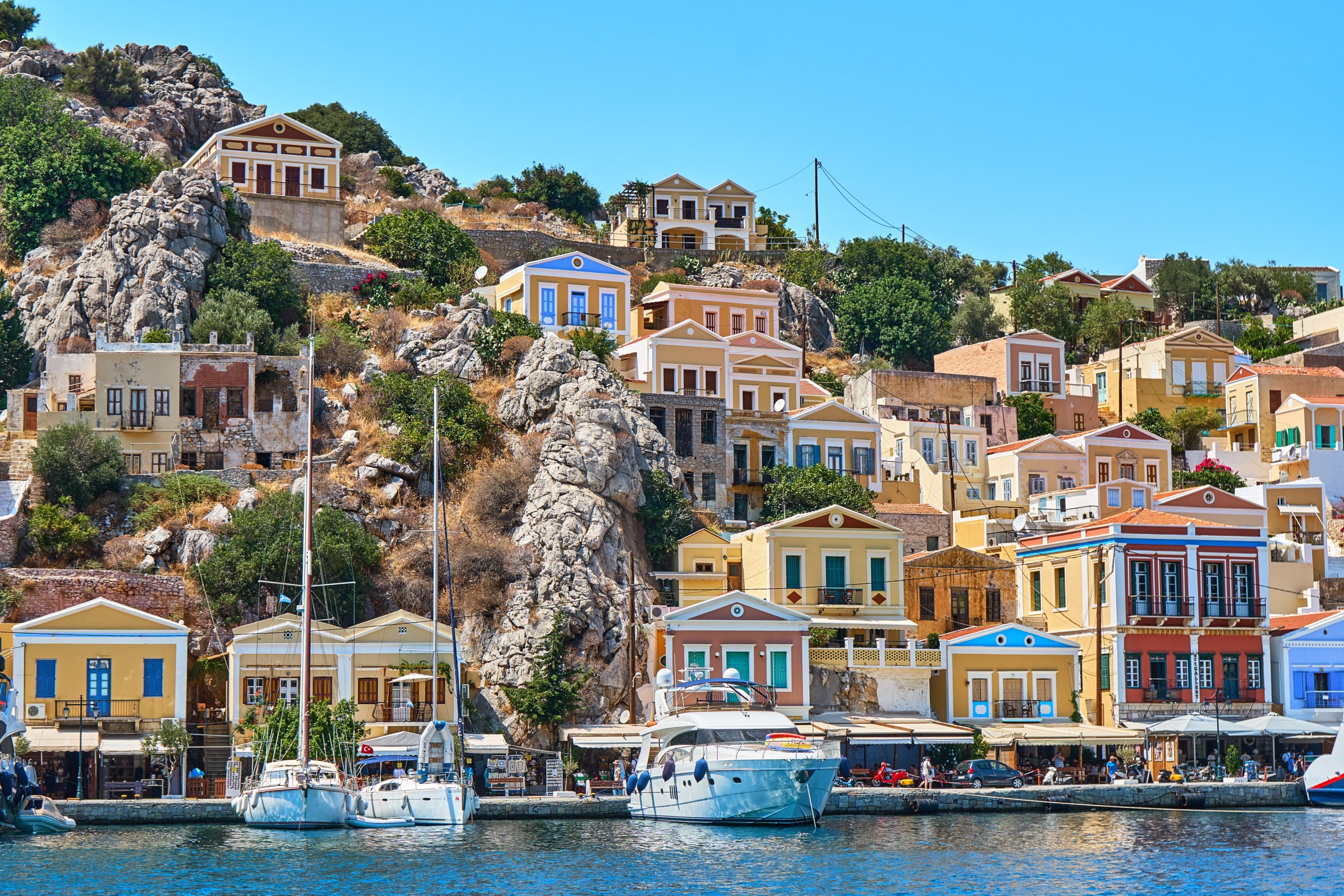 Sightseers can enjoy a host of unique beaches, primarily accessed by boat, each one dramatically different from the next. Sandy Agia Marina offers aquamarine watersand an excellent eatery, while quieter beaches like Marathounta provide an alluring mix of volcanic pebbles and adorably approachable mountain goats.
Unlike the nearby destinations of Rhodes and Kos, regulars to this jewel of the Aegean relish in the island's tranquillity. While there is no end of sumptuous tavernasand cocktail bars, you won't find teenage holidaymakers spilling out of late-night establishments. Instead, luxury yachts line Symi's glistening coastline, conveying a sense of class and maritime tradition.
Stay at the Aliki Hotel on the coast for a slice of old-world glamour, and don't forget to sample the island's famously delectable delicacy, Symi shrimp. Quite unlike prawns from meals past, these bite-size morsels are pan-fried and eaten whole with nothing but a lemon wedge.Tholos restaurant overlooks the main harbour, making it the perfect place to people-watch while enjoying some of Symi's best home-cooked Greek food.
Patmos
Hailed as the "Jerusalem of the Aegean", the sacred island of Patmos has an astoundingly enthralling history. While it may be the hardest to reach place on this list, the picturesque five-hour ferry ride from Rhodes (or three hours from Kos) is more than worth the voyage. Medieval frescoes and ancient relics satiate its still in-use monastery that overlooks steep hillsides dotted with whitewashed houses, creating an impressive focal point for this often overlooked destination. A little further down its slopes sits the candlelit Cave of The Apocalypse, said to be where St John the Divine received visions from Christ and transcribed the Book of Revelation.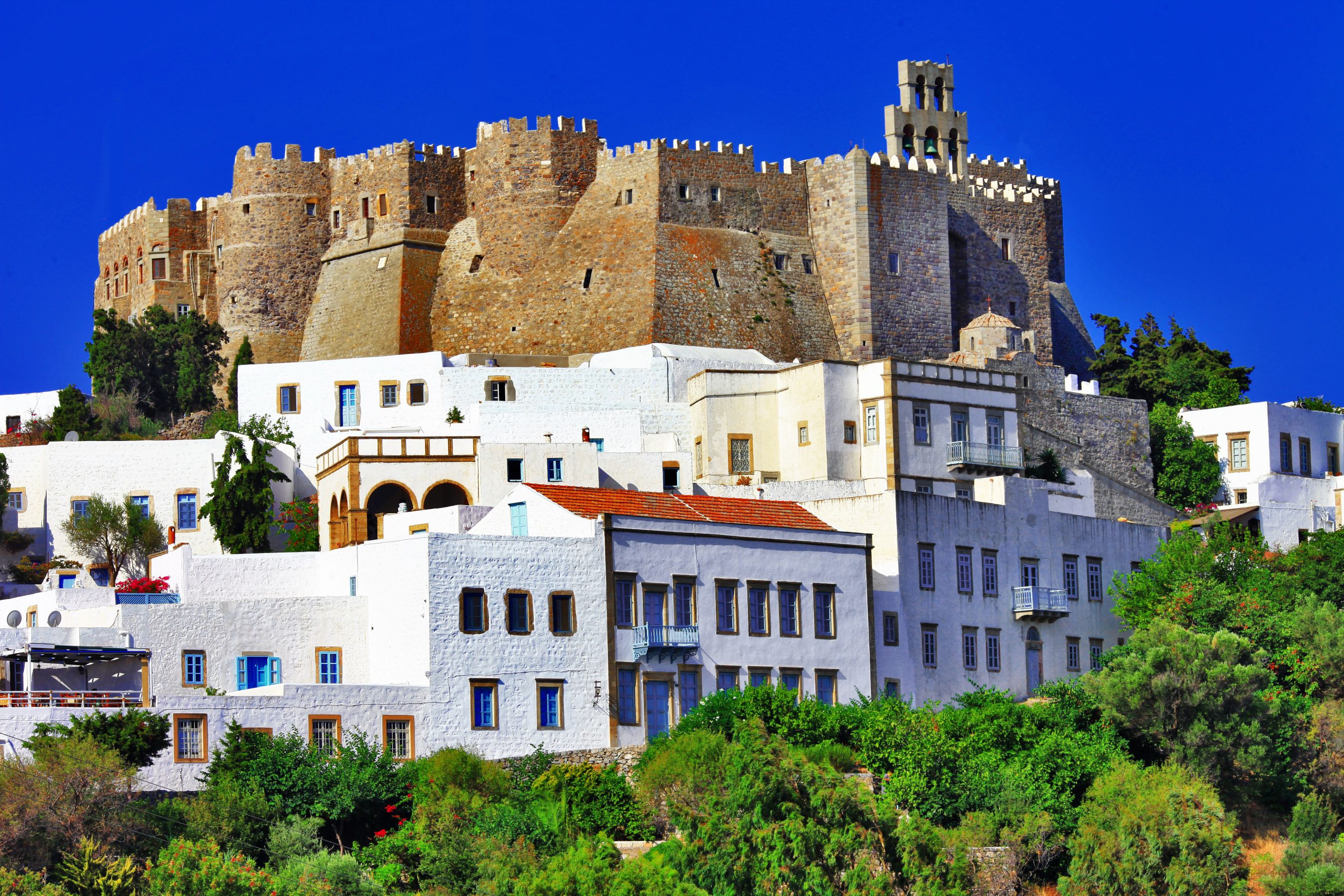 Secluded yet spectacular, Patmos has long been frequented by intellectuals, artists, royalty and celebrities from across the globe, with new, luxury resorts springing up slowly but steadily. For true relaxation, the Aktishotel and spa offers beachside living, complete with spa facilities and a delightfully all-encompassing breakfast spread.
Written by Thea Carley